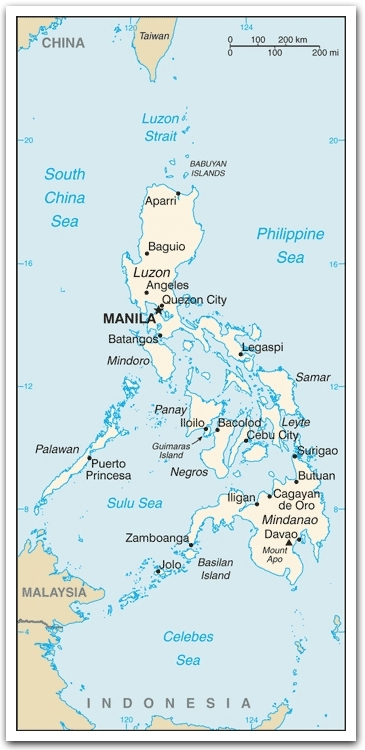 Capital city: Manila

The jeepney is a unique Philippine mode of transport and is frequently seen on the streets of Manila. They were originally made from US military jeeps left over from World War II and are well known for their flamboyant decoration and crowded seating.

The word "jeepney" is believed to come from the words "jeep" and "knee" because of the crowded seating ... passengers must sit knee to knee.
Location: Southeastern Asia, archipelago between the Philippine Sea and the South China Sea, east of Vietnam
The archipelago consists of some 7,100 islands and islets. The large islands fall into three groups:


Luzon group in the north, consisting of Luzon, Mindoro, and Palawan;
Visayan group in the centre, consisting of Bohol, Cebu, Leyte, Masbate, Negros, Panay, and Samar; and
Mindanao in the south.

The banca (pronounced BUNG-kah) is a popular mode of transport from one island to another. It is a boat with two wooden frames extending from both sides. These extensions are known as outriggers and give greater stability to the boat, preventing it from tipping over or capsizing.
Area: 300,000 sq km
(land: 298,170 sq km; water: 1,830 sq km)

Terrain: mostly mountains with narrow to extensive coastal lowlands

Elevation extremes
lowest point: Philippine Sea 0 m
highest point: Mount Apo

2,954 m

Major Rivers: Cagayan, Agno, Pampanga, Pasig, Bicol, Mindanao, Agusan

Land use
arable land: 19%;
permanent crops: 16.67%;
other: 64.33% (2005)

Irrigated land: 15,500 sq km (2003)
The rice terraces of Banaue, built by the Ifugao tribe more than 3,000 years ago, were carved into the mountains at a height of 1,200 m above sea level. Canals were dug so that water from springs and streams could irrigate the rice crops. It is a World Heritage Site.
Natural resources: timber, petroleum, nickel, cobalt, silver, gold, salt, copper

Climate: tropical marine;
November to April: northeast monsoon;
May to October: southwest monsoon

Natural hazards: astride typhoon belt, usually affected by 15 and struck by five to six cyclonic storms per year; landslides; active volcanoes; destructive earthquakes; tsunamis

Environment issues: (1) uncontrolled deforestation especially in watershed areas; (2) soil erosion; (3) air and water pollution in major urban centers; (4) coral reef degradation; (5) increasing pollution of coastal mangrove swamps that are important fish breeding grounds