Parenting in A Cyber-Generation (III)
Should we deny access to the Internet?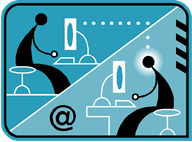 Is being online safe and beneficial for my child?

There is a lot of information as well as offensive materials on the Internet. A search for "animal stories" on your favourite search engine may turn up sites with information on sex with animals. Some undesirable sites camouflaged themselves and draw visitors with keyword stuffing.

I know of families who do not subscribe to Internet access because they want to protect their children from the immorality of the cyber-world ... pornography etc.

Should we stop our children from having any Internet access because of the undesirable and offensive materials available online? No, because there is much more useful information (than undesirable information) to deny them access. Children especially teenagers can access the Internet from places other than your home. Therefore, the answer is not simply to be unhooked from the Internet.

Some families subscribe to filtering service or use some sort of filtering software at home. What's the difference between the two?


Filtering service
... undesirable sites are filtered at your ISP (Internet Service Provider) side

However, new undesirable sites pop up everyday. While your ISP updates itself with a list of undesirable sites frequently, they still need you to report any undesirable sites which they will review and block if deemed undesirable.


Filtering software
... filtering done at your computer; however the software can be rendered ineffective easily by children who know more about computers than parents.

Microsoft Internet Explorer has a Content Advisor that provides a way to help you control the types of content that your computer can gain access to on the Internet. After you turn on Content Advisor, only rated content that meets or exceeds your criteria can be viewed. You can adjust the settings.

Notes:


You can access Content Advisor by clicking the "Tools" menu in Internet Explorer, then "Internet Options" and "Contents" tab.


You might want to write down your supervisor password. You will need to type it any time you change the Content Advisor settings.


Not all Internet content is rated. To prevent others from visiting objectionable Web sites that don't use ratings labels, click the Approved Sites tab, and change the settings as appropriate. If you choose to allow other people to view unrated sites on your computer, some of those sites could contain inappropriate material.
If the answer is not in filtering service or software then what is the solution?

In Jesus' prayer for His disciples, He did not pray for withdrawal from the world but protection from the evil one through the Word of God.


I do not ask You to take them out of the world,
but to keep them from the evil one.

They are not of the world,
even as I am not of the world.

Sanctify them in the truth;
Your word is truth.


John 17:15-17
Use the Word of God to build a biblical filter in their mind to counteract the immorality of the cyber-world and encourage to dwell on the good.
Finally, brethren, whatever is true,
whatever is honorable,
whatever is right,
whatever is pure,
whatever is lovely,
whatever is of good repute,
if there is any excellence and
if anything worthy of praise,
dwell on these things.


Phil 4:8