Trilemma of Christ (III)
Could Jesus have been Lord?
If Jesus is God, then He can do what only God can do ... forgive sins.
And Jesus seeing their faith said to the paralytic,
"My son, your sins are forgiven."

"Why does this man speak that way?
He is blaspheming; who can forgive sins but God alone?"

And immediately Jesus, aware in His spirit that they were reasoning that way within themselves,
said to them, Why are you reasoning about these things in your hearts?
Which is easier to say to the paralytic, "Your sins are forgiven" or to say, "Arise, and take up your pallet and walk"?

But in order that you may know the Son of Man has authority on earth to forgive sins --
He said to the paralytic -- I say to you, "Rise, take up your pallet and go home."

And he rose immediately took up the pallet and went out in the sight of all;
so that they were all amazed and were glorifying God, saying, "We have never seen anything like this."

Mark 2:5, 7-12
Is Christ God? This is the most important decision you can make. Maybe you think you are not interested or do not have the time to make a decision about Jesus Christ. But in this case, no decision becomes a decision of rejection by default. If Jesus Christ is who He claimed to be: God, then none of us can afford to ignore His claims in our lives.

The other option is to receive Him.



"But as many as received Him,
He gave the right to become children of God,
even to those who believe in His name."



John 1:12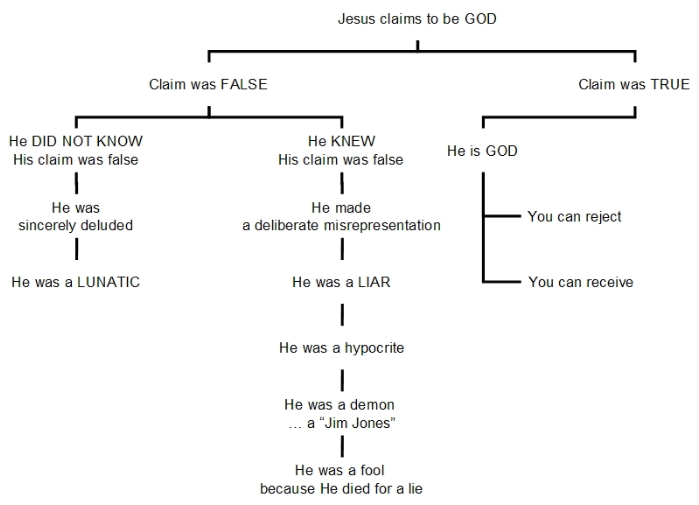 I guess one could assert that Jesus never actually existed -- that Jesus was a legendary figure -- but there is so much historical and archeological evidence to support his existence --

In the 18th book of his Antiquities, the first-century Jewish historian, Josephus made mention of Jesus in these words,
"Now there was about this time Jesus, a wise man, if it be lawful to call him a man; for he was a doer of wonderful works, a teacher of such men as had a veneration for truth. He drew over to him both many of the Jews and many of the Gentiles: He was the Christ. And when Pilate, at the suggestion of the principal men among us, had condemned him to the cross, those that loved him at first did not forsake him; for he appeared unto them alive again the third day, as the divine prophets of these and ten thousand other wonderful things concerning him: whence the tribe of Christians, so named from him, are not extinct at this day."
Few hold the view that Jesus was just a myth.



What does all this have to do with you?