Christmas Voices of
Mary and Joseph
Mary's Monologue
Luke 1:26-38

This is too much to take in. Me? Favored? By God? How can it be that I bear a son … the Son of the Most High, who will reign forever on the throne of David? Isn't that person the Messiah?

And how is this (conception) possible since I am a virgin? The angel said that it would be a miraculous virgin conception … conception through the Holy Spirit and that the child shall be called the Son of God. This is so unbelievable … so incredible!

The angel said that nothing is impossible with God. He informed me that my elderly cousin, Elizabeth who was barren, is now in her sixth month of pregnancy. If that is possible then who am I to say that a virgin conception is impossible? Lord, let it be done to me!


Joseph's Monologue
Matthew 1:18-25; Luke 2:1-5

"I didn't do it!" she said and I believe her. Mary has always been truthful. I believe she did not commit sexual immorality. But her story seems so incredible … pregnant through the Holy Spirit … a child without a human father!

I intended to call off the engagement with Mary privately else she would be stoned to death (Deut. 22:20-21). Then there was this strange dream … an angel of the Lord telling me to marry her even though she is already pregnant. I am afraid … everyone would think that we had sex before marriage and that I am the father of the child.

The angel revealed that this is no ordinary child. The child, Jesus, is of the Holy Spirit. Yes, the angel told me to name him, "Jesus" which means "The Lord saves", for he will save our people from their sins. My heart is now somewhat at ease after the revelation. I must help Mary keep this secret. I will marry her.

I understood later that what is happening to Mary is a fulfillment of Isaiah's prophecy hundreds of years earlier (Isa. 7:14) … that the virgin shall conceive and bear a son. We are now married but we did not consummate our union sexually (till after the birth of Jesus).

From Nazareth to Bethlehem is a three-day journey of about 60 miles. I am not looking forward to it. It will not be an easy journey for Mary. Her belly is so big now. Moreover, Bethlehem is up in the hills. What if the baby comes along the way or when we are in Bethlehem, away from friends and family?

We don't have a choice. We had to travel from Nazareth in Galilee back to my place of birth, Bethlehem in Judea to register because Emperor Caesar had issued a decree for a census. This census is probably a prelude to a tax. Once again the Roman government had forced its hand upon our lives. Oh, how we long to be free. When will the Messiah come and shatter the yoke of bondage and set us free? Is it possible that the child Mary is carrying truly the Messiah, our Savior?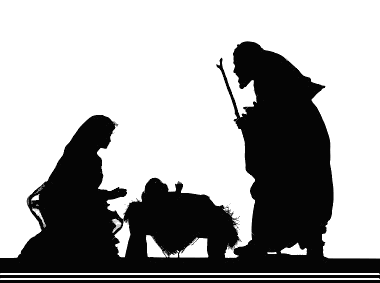 Mary's Monologue (2)
Luke 2:6-20

The baby's here but there was no room in the inn. Because of the census, Bethlehem is teeming with people and the inn was full. And so I wrapped the baby in strips of cloth and laid him in a manger.

Soon after, shepherds came looking for Jesus, saying that they had been directly informed of his birth by an angel of the Lord. They knew that Jesus is the one because he is wrapped in cloths and lying in a manger … just as the angel said.

According to the shepherds, the angel also announced that the child is the Savior who is Christ the Lord. What do all these mean? Is this angelic announcement a divine confirmation? Can it be that this child is indeed my Savior who will save me from my sins?


For Reflection

Are you busy this time of the year … buying, wrapping and giving gifts? Have you crowded out Jesus from your life having no time and no room for Him? Do these trimmings … the tinsel and glitter of Christmas … give you lasting happiness?

Jesus gives joy (Jn. 15:11). The angel who appeared before the shepherds brought good news of great joy of Jesus' birth (Lk. 2:10). But to appreciate the good news you must understand and accept the fact of the bad news … that all have sinned. There is none righteous, not even one, and man needs forgiveness of their sins (Rom. 3:10-23). Man also needs a righteousness from God … that cannot be achieved through self-effort but is given by God and received through faith … faith (belief) in the Son of God, Jesus Christ.




Christmas Voices: Mary and Joseph | The Shepherds | The Magi and King Herod | Who said these words?
Who do you say Jesus is? | Main Page | Alan's Testimony