Teaching the Word of God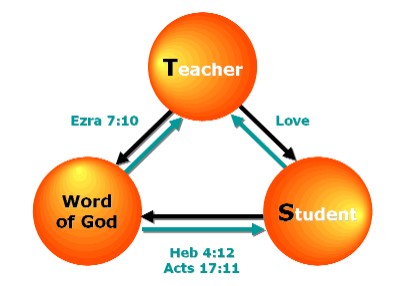 Continuing from the previous article, we will now take a look at the teaching process where the subject matter is the Word of God.

Teacher wrt the Word of God

wrt = with respect to



Master the Word of God


Without mastery and clarity of thought, it would be difficult for you to explain clearly to your students.

Be diligent to present yourself approved to God
as a workman who does not need to be ashamed,
accurately handling the word of truth.


2 Tim 2:15

For the Christian teacher, the Bible ... the Word of God is the subject matter. Therefore, you must read, read and read the Scripture passage thoughtfully and carefully ... trusting the Holy Spirit to teach and guide you into the truth (John 14:26; 16:13).



Be mastered by the Word of God


To be an excellent teacher of the Word of God, you must not only master the Word of God but be mastered by it.

One of the things that turns students "off" in teaching is the inconsistency in the life of their teacher ... a teacher who does not practise what he preaches! There would be no credibility in his teaching (c.f., 1 Tim 4:11-12).

Even if his students do not know about his life, the teacher would find that he lacks the conviction to press his lesson across because it is not true in his life.



The above is best summed up by three words in Ezra 10 ... study, practice and teach

For Ezra had set his heart
to study the law of the LORD
and to practice it,
and to teach His statutes and ordinances in Israel.


Ezra 7:10
Teacher wrt Student

wrt = with respect to



Pray for your students

43For there is no good tree which produces bad fruit,
nor, on the other hand, a bad tree which produces good fruit.

44For each tree is known by its own fruit.
For men do not gather figs from thorns,
nor do they pick grapes from a briar bush.

45The good man out of the good treasure of his heart brings forth what is good;
and the evil man out of the evil treasure brings forth what is evil;
for his mouth speaks from that which fills his heart.

Luke 6:43-45

The above tells you that as a teacher, you cannot bring about a change in the lives of your students from the outside. They need a new heart ... a heart that is set on obeying God.

Only God can bring about a transformation through the new birth resulting in new attitudes and behaviour.

Therefore, if anyone is in Christ, he is a new creation;
the old has gone, the new has come!


2 Cor 5:17

Knowing this, then, you should pray for your students ... pray that God will effect the changes and bring about a hunger for spiritual food and growth (1 Pet 2:2).



Love your students


Have you observe someone who is more receptive to one teacher than to another? Why is this so? Because there is a relationship … the teacher has been able to teach in an environment of love.

Having so fond an affection for you,
we were well-pleased to impart to you
not only the gospel of God
but also our own lives,
because you had become very dear to us.


1 Thess 2:8

The teacher respects his students and sees them as capable of learning and growing.


Teacher wrt Student and Word of God

wrt = with respect to



Trust in the life-changing power of the Word of God


Your task as a teacher is not to convict your students of sin nor is it to bring about change (you can't!). Your job is simply to teach the Word of God.

For the word of God is living and active.
Sharper than any double-edged sword,
it penetrates even to dividing soul and spirit, joints and marrow;
it judges the thoughts and attitudes of the heart.

Nothing in all creation is hidden from God's sight.
Everything is uncovered and laid bare
before the eyes of him to whom we must give account.



Heb 4:12

Simply use the sword and trust it to penetrate, cut and reveal.



Teach the students to search the Scriptures ...


... and to discover truths for themselves.

Always get them to back up their views with Scriptures (i.e., Book, Chapter and Verse). On the flip side, they must open their Bible to verify or disprove any message they hear; they must not simply accept as truth what is being taught by anyone, even a well-known scholar.

Now these were more noble-minded than those in Thessalonica,
for they received the word with great eagerness,
examining the Scriptures daily to see whether these things were so.


Act 17:11

Conclusion
97O how I love Your law!
It is my meditation all the day.

98Your commandments make me wiser than my enemies,
For they are ever mine.

99I have more insight than all my teachers,
For Your testimonies are my meditation.

100I understand more than the aged,
Because I have observed Your precepts.

Psa 119:97-100
The day may come when your students exceed you in wisdom and you would have left behind faithful men who are able to teach others also (2 Tim 2:2).





The Teaching Process | Teaching the Word of God | Effective Persuasion | Main Page