Explore Singapore Web Sites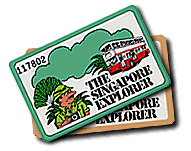 KnowledgeNet Singapore

Authoritative site on Singapore history built in association with National Archives Singapore. Rich reference source of historical and geographical data, indexed in a variety of ways for easy reference, includes digitized archives of Singapore historical documents, oral history and audio-visual material.


Singapore InfoMap

Containing information and links on Singapore such as government, geography, history, festivals, amazing facts, national symbols and shared values for children and kids, as well as a cartoon map, in easy-to-understand text and lively graphics.

Singapore Government Web Site

The official web site of the government of Singapore, with information and links to Singapore ministries, statutory boards and newspapers as well as press releases, events and announcements.