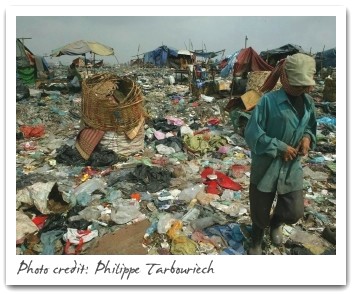 It is estimated that 40% (2004 est.) of the population lives below the poverty line and over 1.4 million children (52% of 7-14 year-olds) are at work in 2001. The children are forced out of school to work mainly on farms and for their families to help their families make ends meet.

Child labour tends to perpetuate the cycle of poverty because the children are denied the opportunity to acquire the knowledge and skills needed for future gainful employment.

In southern Phnom Penh, about 600 children live and work at a rubbish dump. The children search through the piles of trash and pick plastic and other recyclable materials for sale to feed themselves and their families. The dump is nicknamed "Smoky Mountain" because of the smoke from the decomposing materials at the dump.