90.3% (of those age 15 and above) can read and write (2000 census).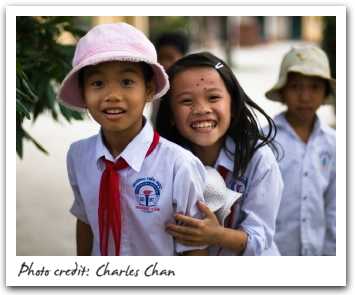 Primary school - 5 years
Lower secondary - 4 years
Upper secondary (academic/vocational) - 3 years
University - usually 4 years

Primary and secondary education is provided by the government free to all. Children usually begin school at age 5 or 6. All Vietnamese children attend primary schools and are encouraged to finish secondary school.

Secondary education commences at the age of 11 (grade 6) and continues to the age of 17 (grade 12). Most government school facilities cannot accomodate all of the children at once, so they run two sessions - morning and afternoon. The school week runs from Monday to Saturday and schools are closed from June to September.

Vietnam also has secondary vocational schools which allow specialisation in such fields as industry, agriculture, forestry and fisheries, economics, teacher training, medicine, gymnastics and sports and culture and arts.