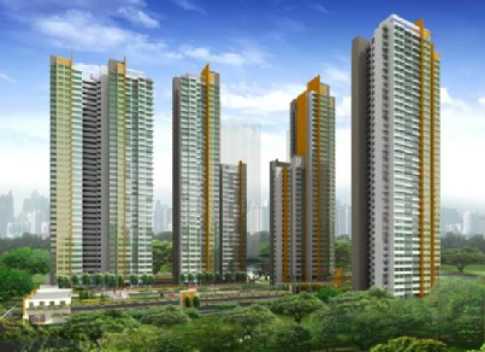 Master Bedroom
Style: I wanted to create a faux (fake) walk-in wardrobe using a shelving unit then the idea came ... doubling the shelving unit as a headboard cum bedside tables.
The placement of the shelving unit parallel to the wardrobe creates a long walkway and cuts the bed from view. The walkway is pretty narrow but then both the master and mistress are slim and the bedroom typically does not welcome visitors.
Locating (read: hiding) the bed behind the large headboard imparts a sense of seclusion ... retreat to a dreamy getaway especially when all you see (as you lie in the bed) is a beautiful night sky through lacy curtains.
Headboard: The (Expedit) shelving unit is finished on all sides thus can be used as a room divider.
Inserts with doors, mirrors and drawers are added to the shelving unit to create dust-free storage; the cubbies are accessed from either side. So as not to lose access to the cubbies behind the bed and mattress, these cubbies are accessed from the wardrobe side.
Bedside Tables: Open shelf inserts at mattress level and on both sides of the bed serve as "bedside tables" and are used for convenient placement of an alarm clock, glasses, a Bible and other small personal items.
Bed & Mattress: Storage divan bed (with two drawers) and a latex mattress with a top quilted layer
When these were delivered, I was shocked by their combined height; it was higher than my bottom. I literally had to jump to get onto the bed! I can do "it" now but not in a few years' time ... it ... jumping to get onto the bed. I just had to return it and buy a less thick mattress.
Bedlinen: 100% cotton sateen fabric weave which has most of the threads on the surface and gives the sheet a smooth shiny finish and a luxurious feel like silk. My wife is amazed by its almost wrinkle resistant finish.
Curtain: Two layers of white curtains (a thin curtain and a thicker one) on triple track rails.
Wardrobe: Medium brown wardrobe with Tonnes sliding doors (white glass; embedded with with a shadow of a flowering tree branch)
Tip: Sliding doors require less space when open than a standard wardrobe door especially important in view of our narrow walkway.
Chest of Drawers: Matching medium brown chest of three drawers (high gloss white) with integrated dampers for soft closing. The light blue plastic film covering the white drawer fronts has yet to be removed.
What Others Say: Over to you, send me your comments. Thanks.