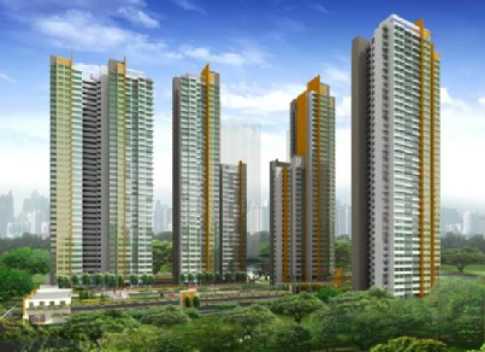 Living/Dining Room
I wanted to bring the outside (nature) into the apartment so the walls are painted a sunny lime (yellowish green) and the furniture is predominantly dark brown.

The round clock and ceiling lights are intended to offset the angular room and furniture.

The large rectangular room is divided by the arrangement of furniture into zones ... entertainment, dining and workspace (study).
Positioning the sofa in the middle of the room (facing the TV), creates a visual barrier and defines the "end" of the living room space. Backing it with the glossy red desk marks the "start" of the workspace (study). The large mirror next to the dining table defines the dining room.

A clear walkway is provided (1) from the entryway to the span of windows and to the hallway leading to the bedrooms, (2) from the living room to the kitchen and (3) from the kitchen to the span of windows.

The room is sprinkled with splashes of red (as seen in the desk behind the sofa, wall clock, throw on sofa as well as the cushions of the retro single chair) to offset the predominantly dark furniture.
Inspiration: The treetop view
Biggest Indulgence: L-shaped leather sofa
Splurge or Save? Suggestions on furnishing a home ... where to splurge and where to save (from Apartment Therapy)
Favourite Element: Unadorned windows present a picturesque view and let in natural light. However, the light can be glaring though during the day.
Biggest Challenge: The morning sun shines into part of the living room so the biggest challenge is to protect the leather sofa from fading and drying.
Two safeguards: (1) a red throw draped over that part of the sofa where the sun is shining on and (2) a movable (four-panel) screen made from our old wardrobe doors placed at the windows to block the sun rays from shining on the sofa.
LATEST: The glare from the unadorned windows won so it's curtains finally. One pair of 100% polyester pink curtains and a pair of thin, sheer curtain for a light airy look.
Proudest Recycling Effort: Movable screen made from old wardrobe doors
Biggest Embarrassment: The movable screen is heavy as the wardrobe doors are made of solid wood and it is a hassle to move it around. Moreover, it seems out of place in the middle of the span of windows.
LATEST: The movable screen is moved to the entryway for some privacy from prying eyes looking into the living room.
What Others Say: Over to you, send me your comments. Thanks.