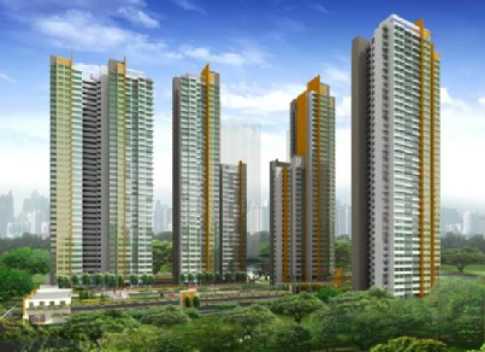 Kitchen Ikea
Style: Fairly traditional country style (Lidingo)
This predominantly white kitchen juxtaposes with the dark gray countertop and black fridge. The white cabinets also stand in contrast to the dark brown furniture in the adjoining living/dining room.
Tip: White kitchen cabinets, white wall tiles and white ceiling all combine to enhance the sense of space and make a small kitchen seems larger.
Layout: L-shaped
Ikea cabinets are available in a limited number of widths so this restriction poses a challenge to configure the cabinets to fit the space. After careful measurements and various combinations, the final configuration leaves a gap of about 1cm at the far end of the base cabinets. The wall cabinets are not flushed against the louvered windows to allow natural light and breeze to enter the kitchen.
Cabinets: White-lacquered (read: semi-gloss sheen) fibreboard (MDF) with raised and recessed panels (read: stylish details)
Glass-front cabinets showcase my wife's Tupperware collections. Glass shelves are placed at the same level as the horizontal wood trimmings on the glass fronts.
Drawers of different widths and depths store all kinds of bowls, plates, pots and pans. All cabinets come with door/drawer soft-close dampers.
Countertop: Acrylic solid surface worktop (Gray Onyx) from Luxx NewHouse
Sink & Faucet: Double-bowl ceramic farmhouse sink
and brushed nickel faucet with pull-out swivel spray spout
The deep sink bowls can easily accommodate big pots. It has an "apron front" that rises above the surrounding countertop and juts out slightly from the supporting base cabinet. Water or soap suds that dripped over its lip would drip onto the floor rather than on the base cabinet, preventing damage to the wood. It also a ledge where you can place dish detergent, sponge pads and soap.
Sink mats protect the ceramic sink bottoms as well as protect glasses and dishes from chipping.
The faucet is tall at about 47cm high. With its pull-out swivel spout, water can be directed at any area of the sink bowls. The pull-out spray is great for flushing food scraps off plates, rinsing vegetables and washing pots.
Appliances:
No cooker hob or hood
We only cook Sunday dinner therefore a portable induction burner suffices. It stores neatly in a drawer when not in use. At other times, a microwave (cum convection oven) and a turbo convection oven are all we that need.

6-door fridge
We splurged on this 620l refrigerator with two French doors, two bottom freezers, a quick-freeze compartment and an automatic ice-maker. (1) With its French doors, the fridge has a substantially reduced door swing as only one side of the fridge needs to be opened at one time. It saves energy and gives you extra walking space. (2) The bottom freezers have a total of an additional three sliding trays to help organize your food items.
Refrigerator Buyer's Guide (from Apartment Therapy) with insights on what to look for and consider when making that new refrigerator purchase.
Backsplash: No matching backsplash that blends seamlessly with the acrylic countertop
The main purpose of a backsplash is to provide an easy-to-clean surface so that messes or oil splashes would not stain the walls. But the kitchen walls are already covered with glazed ceramic tiles ... washable ... so there is no need for a backsplash.
Lighting: General lighting from ceiling-mounted lights
Originally, I wanted countertop and glass-front cabinet lighting but realized that installation is difficult without a contractor to coordinate between cabinetry and electrical works. Finally, I dropped the idea.
Countertop lighting is really not needed as the countertop is well-lit by one of the ceiling lights.

Cabinet lighting is unlikely to be used most of the time.
Open Shelves: Matching standalone
This (Liatorp) bookcase in romantic country style (with its cornice and plinth rail) matches the (Lidingo) kitchen cabinets. The lower part of the bookcase is complemented with panel doors for hidden, dust-free storage of items not quite pretty enough for display while the upper part retains its open shelving and serves as a food pantry.
Decorating Ideas: Two wooden parrots, a teddy bear on a rocking chair and several baskets on top of the wall cabinets draw the eye up and increase the apparent height of the ceiling.
Proudest Achievement: Custom-made look with stock or standard cabinetry
Kitchen Planning Guide (from Ikea Saudi Arabia) offers simple facts and some practical advice from their kitchen experts.
What Others Say: Over to you, send me your comments. Thanks.