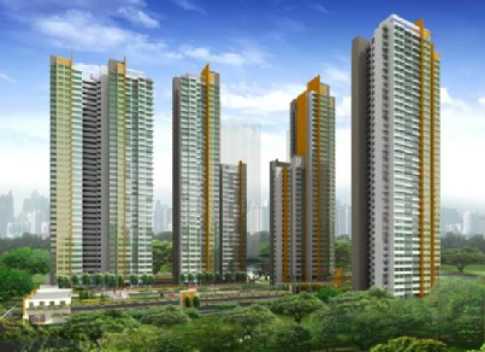 TV Display Centre Ikea
My Style: I wanted more than a TV console (read: small); rather an impressive yet not overwhelming piece of furniture. The stepped arrangement of the modular units reduces the mass of 3.6m long cabinetry. Glass doors and chrome-plated handles also add visual interest.
Inspiration: What I want and what I do not want
Biggest Indulgence: 40" LED TV ... typically I would not buy something new if what I have is working. I had an old working TV but it would not fit into the TV storage unit.
We bought extended warranty for the TV. On hindsight, the extended warranty probably is unnecessary. Oh well, we will see.
Biggest Challenge: Running the power and TV cables behind the cabinet … two round holes were cut in the drawer cabinet to accommodate a power plug, a two-way TV splitter and cables.
Proudest DIY: Photo stand made out of Lego blocks for a $2-dollar photo frame
Proudest Recycling Effort: A 20-year old picture light salvaged and recycled to backlight the TV storage unit
Unusual Use: A quiver made of tree bark used as a container for flowers. The tree-bark quiver is a gift from a Kadazan friend from Sabah.
Favourite Element: Rubber toy velociraptor pursuing a (mouth blown) glass horse
Biggest Embarrassment: Velociraptor keeps falling down.
Tried (1) twisting the velociraptor's head, body, feet and tail to "balance" it and (2) taping one of its feet using double-sided tape … yet to find a permanent solution.
Newsflash: I found it! A solution.
TV Height: My TV seems to be mounted too low but I do not have a choice with the TV storage unit. Danny Lipford, a home expert gives this guide on TV height - "The bottom should be at eye level when you are sitting, the top at eye level when you are standing."
What's On Display: Family photos, bears and Hello Kitty
What distinguishes my apartment from my neighbour's? When I step into my apartment what makes me feel like I am really home? It's accessories (read:memories) that make a house a home. They are what give our home personality and character.
Here are some tips for displaying and arranging accessories:
Group objects by type, material, colour or shape
Keep it simple - have a focus
Work with what you have
Mix and match - have a sense of humour
Display small items up close and big, bold objects up higher
Display objects in odd numbers - three, five or seven
Choose objects with differing heights
Display valuable objects behind glass doors for protection
Use a tray for coffee tabletop order
What Others Say: Over to you, send me your comments. Thanks.