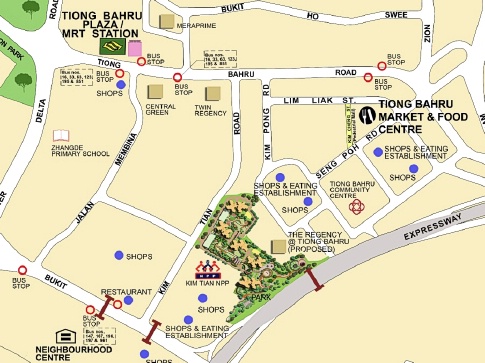 SERS Joy
Selective En-bloc Redevelopment Scheme (SERS) is a government scheme where old precincts are torn down and rebuilt, while residents are resettled elsewhere.
In February 2007, MP for Tanjong Pagar GRC, Ms Indranee Rajah, revealed that two sites had been identified for SERS. My present home is in one of the two sites (Blocks 17-19 and 22-31 at Silat Walk / Kampong Bahru Hill / Silat Road) ... happiness (a new flat in the horizon)! My present apartment is a 3-bedroom walk-up unit with a floor area of 78 sqm and a remaining lease of about 71 years as of 2007.
The replacement flats to re-house the flat owners will be built at Kim Tian Road which is near the Tiong Bahru MRT Station ... double happiness (equally central location and added convenience of a MRT station nearby)!
The five replacement blocks are 25- and 40-storey high with 1,100 units of 2-, 3-, 4- and 5-room flats. They are next to the low-rise Tiong Bahru estate where the apartment blocks are made up of two to five-storey flats. You can walk among these low-rise blocks and enjoy the open spaces and the blue sky. This is a privilege because many high-rise HDB blocks are surrounded by other high-rise blocks ... outside your window is another window (of the opposite block) and if your apartment is on a low floor, you have to look vertically upwards to see the sky. These are hyperboles but you know what I mean.


Close-up Replacement Site Plan (2 MB)


I am eligible for a new flat at the designated replacement site with a 20% price discount (up to $30,000) ... triple happiness! I bought my existing flat from the open market (without the CPF Housing Grant); in other words, my replacement flat will be my first direct flat from HDB.


More about SERS
Tiong Bahru Conservation Area
Bounded by Seng Poh Road, Outram Road and Tiong Poh Road, the area was given conservation status on 1 December 2003. It is the first public housing estate in Singapore and comprises 20 blocks of 2- to 5-storey pre-war public housing flats built by the Singapore Improvement Trust (SIT) in the 1930s. There are also the 2-storey Transitional style shophouses along Tiong Bahru Road built in the same period as the flats and the 1- to 4-storey Art Deco style shophouses along Outram Road built in the early 1940s.