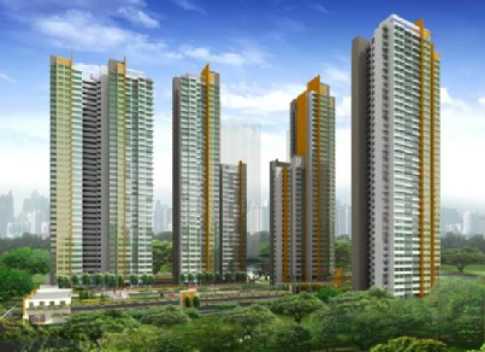 Common Bathroom
Mirror: Because the door opens in the middle of the bathroom, it reduces one's view of the whole bathroom. A large mirror (120 x 60 cm) is chosen to create an illusion of a large bathroom. The frame is made of solid birch and is water-resistant thus suitable for use in high humidity areas.
The mirror has a generous 12 cm edge/shelf for placing toothbrushes, toothpaste, mouthwash, facial wash, shaving cream, etc.
Bathroom Set consisting of a milky acrylic hand-lotion pump, toothbrush holder and soap dish
Shower Curtain: A panel shower curtain made of 100% polyester taffeta with a photorealistic picture of an egret standing in its habitat.
Water Heater: Bennington C600
The C600 is a pressurized electric water heater similar to storage water heaters and can be used with mixer taps. It is connected to both outlet points of the common and master bathrooms i.e., two showers share the same water heater.
Laundry Bin: This is from my previous apartment. The dark blue colour matches that of the shower curtain.
Lighting: Cool white lighting from a ceiling-mounted light and warm white lighting from a concealed T5 fluorescent tube above the mirror
Accessories: Inspired by the egret in its water habitat, the bath accessories follow a seaside theme of seashells and dolphins.
What Others Say: Over to you, send me your comments. Thanks.